The Band in Manila
MANILA, Philippines-- The World Trade Center on July 29 was jampacked as one of the Legends of trash Metal Megadeth has come to Manila for the very first time. Even Typhoon Gener could not scare away the metal fans waiting anxiously for the band. They are touring in support of their latest LP,
Th1rt3en
.
Megadeth has over 30 million albums sold worldwide, 13 studio albums, nearly 30 hit singles, 32 music videos and 10 Grammy Award nominations under their belt.
Megadeth are one of the biggest groups to come out of the 1980s thrash scene. They are hailed as one of the Big Four of Thrash Metal, alongside Anthrax, Slayer, and long-time rival band Metallica.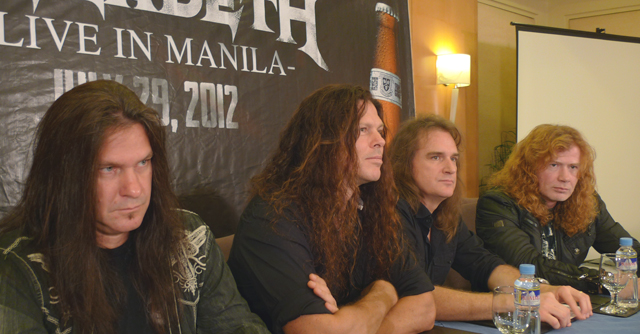 Dave Mustaine (Vocals/ Guitar), Dave Ellefson (Bass), Chris Broderick (Lead Guitars), Shawn Drover (Drums)


image source:
Victor D. Sollorano
Lead Vocals and Guitarist Dave Mustaine was amazed about the Filipino fans, metal concerts doesn't usually happen on this part of the world says Mustaine. He probably didn't expect how many fans are here in the Philippines, I, myself is a very big fan of Megadeth. He also says "we should have been here a long time ago".
I wish they will come back next year, and probably together with the "big 4" and once again rock Manila. Me and my Metal head friends will surely be there, you bet!
-->